Home
›
Best Of
Best Of
Christmas Trivia Countdown #32 (Yes, it's a countdown. We start at 32 and go down.)
North Pole, Alaska does exist but it's not the actual North Pole. Located 1,700 miles south of the actual North Pole (and 125 miles south of the Arctic Circle) is part of the Fairbanks, Alaska metropolitan statistical area.
The City of North Pole was incorporated on Jan. 15, 1953.
The developers of the city chose the name North Pole in hopes of that a large toy manufacturer would build a facility in the city.
North Pole, Alaska has its own zip code and the post office receives hundreds of thousands of letters to Santa Claus each year. A community program responds to letters addressed to:
Santa Claus
1 Santa Claus Lane
North Pole, Alaska 99705
32 Days left before Christmas!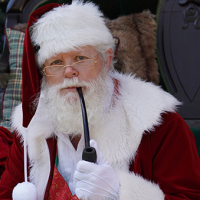 PappyJoe